UPDATE: POP. MILANO
CLOSING FOR +50.4% AND SWITCHING INTO BMPS
We still like the name as it has many of the attributes of BMPS. (Good capital, reported good numbers and the upcoming popolare consolidation).
However following the run it has had we feel it is the right time to take profit and switch into BMPS where we see a lot more material upside as their journey has just started.
YTD performances: PMI +33.89% and BMPS: -7.5% as BMPS starts its journey gives us more comfort in moving into BMPS.
Closing PMI IM here for +50.4% abs return.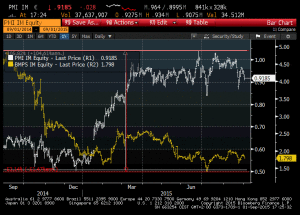 PMI REMAINS OUR TOP PICK
---
Tuesday • 11 August 2015 • 15:20
---
Post PMI and BPE earnigns last night we feel is Italy is on the mend.
Banca Pop Milano says loans to corporates up 5%YTD driven by the manufacturing and services.
First meaningful loan growth in 4 years.
And growing credit line utilisation pushed fees up 14% yoy.
At 1x book this stock is not priced for growth.
Banca Pop Emilia Romagna says "it is worth pointing out the continued positive trend in residential mortgages, which posted a 63.7% increase in new loans."
The Italian economy has turned.
Banks look way too cheap!! We see 30% upside and remember mergers are coming.
See our original PMI BUY IDEA.
POP. MILANO U/G AT MS. IT'S A GOOD UG
---
Tuesday • 15 July 2014 • 08:24
---
Pop. Milano Raised to Overweight at Morgan Stanley.
I think it is a good U/G. A name we like and have been looking at last few days. Feel they have been dragged down with the rest of the sector last week. For us they are the best way to play Italian banking sector. The fact that they are Milan based and essentially deal with professionals means they are leveraged into the good side of an improving Italian economy. Like the many other they are cheap on a BV metric.
Currently the government has a clause which stops any take over. Along with being leveraged into the best side of the improving Italian economy you also have the massive catalyst of the government clause changing( as many expect) and a takeover coming.