CLOSING: UK SUPERMARKETS
TAKING TESCO OFF THE TABLE
We are closing our short on Tesco after returning 13.2% since inception in December.
Tesco shares are having a small relief rally today after FY results were better than expected.
Undoubtedly the environment remains challenging but for me estimates are already extremely low and most of the pessimism is in the price, with the analyst community now bearishly skewed.
Take profit here.
TESCO: X-READ FROM MRW RESULTS
---
Thursday • 13 March 20114 • 15:59
---
Morrison reported weak numbers/outlook today on the back of crippling competition from low-end supermarkets Aldi & Lidl.
Aldi's UK sales growth is up 34% in the past year alone. Discounters including Lidl and Farmer Foods are starting to make a real dint in the UK grocery market (as shown by Kantar report).
Tuesday's Kantar report confirmed weakness in the UK food market and a slowdown in food inflation.
There have been no sign of a reversal in this trend or improvement from any of the big UK players.
Some have said the bearish outlook for UK Supermarkets is already priced in, however the price action today shows differently.
Tesco has bounced off this 300p level a few times since 2009, a break could see it drift a lot lower.
Stay short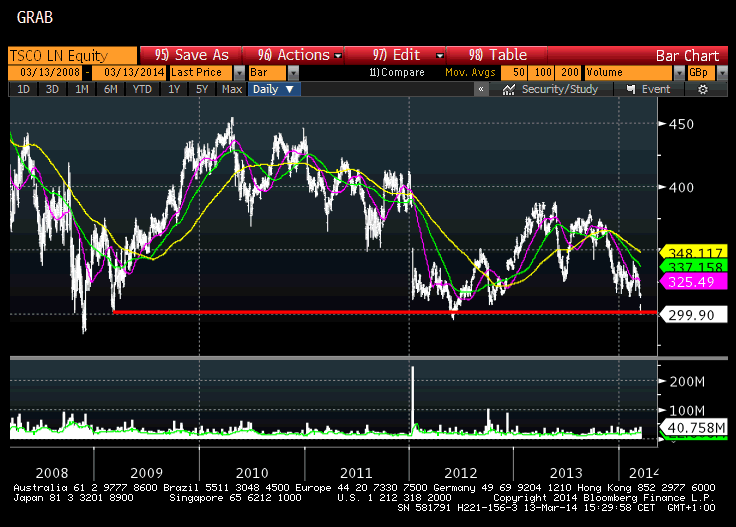 ---
Friday • 07 March 2014 • 11:23
---
ML pushing short SBRY ahead of next weeks kantar data and we continue to believe in the short case for TSCO (part of an update note from yesterday below.
The BRC-Neilson shop price food inflation shows that UK food prices have continued to trend downwards for the past 12 months, falling more aggressively in past couple month. We believe pressure on pricing will outweigh the improving economic backdrop in the UK. Tesco is heavily leveraged into UK food retailing space and we see it coming under increasing pressure. Their strategy is currently flawed as they continue to try to be the jack of all areas and the master of none. Stay short, we are aiming for 300p.
---
Wednesday • 08 January 2014 • 17:21
---
I am closing the Sainsburys +4.20% ab/4.80% rel and Marks & Spencer for a small profit. Tesco is one I would be happy to run as I feel they are really stretching themselves in terms of products. They seem to be doing a bit of everything from tablets to Insurance and I can't see them doing any of it well and see them just being beaten by specialists in their respective areas.
---
Tuesday • 07 January 2014 • 17:20
---
I would buy back half the positions here. I was hoping for more of a reaction pre SBRY tomorrow. All the info is out there. People already short so may well be waiting for confirmation from SBRY. I'm not sure need the risk over these numbers tomorrow morning…Up 1.71% in SBRY/1.65% TSCO/MKS 0.9%.
Lets see what happens tomorrow.
---
Monday • 30 December 2013 • 12:15
---
Short a basket of supermarkets for January.
SBRY sales on 8th Jan could well be the trigger.
Some big names are also jumping into this trade according to The Times Marshall Wace in Debenhams and Black Rock took a big short position in Marks & Spencer early in December.
One or more of the UK supermkts will warn for FY and SBRY could be the start.
Margins will be hit due to price competition.
Price competition is not only there between the big 4 ASDA/SBRY/TSCO/MRW but also from the big discounters Aldi and Lidl where the stigma of shopping there is not like it used to be.