CLOSING LONG GSK
POST-BREXIT BOUNCE : +11.31%
Another one of our Brexit basket.
The initial 10% move in sterling equated to a 10% earnings upgrade so the move we have ridden also includes some re-rating as a result of the bond yield move.
With that reversing a touch after Friday and sterling moving post May's confirmation as the new PM, we take this opportunity to book profits.
+11.31%.
UPDATE: GLAXOSMITHKLINE
M&A RUMOURS; REITERATE BUY
---
Wednesday • 13 January 2016 • 18:10
---
This morning the daily mail is reporting the CEO is considering selling its consumer healthcare products division. Reckitt Benckiser, Unilever and Procter & Gamble mentioned (Jan. 29)
Vague takeover chatter mentioning JNJ as acquirer on twitter. Although we feel this is very spurious it shows the M&A optionality on the name.
Added to that you have strong EPS growth and we feel upcoming numbers will be very good on Feb 3rd.
Witty is under pressure so either he performs or M&A is forced upon him by shareholders.
Did we mention 6% dividend you receive while you wait for all this to play out!
We like the name and would use any weakness to BUY more. +3.66% since we pushed it on Jan 13th.
JUICY DIVIDEND WITH FREE OPTION ON M&A
---
Wednesday • 13 January 2016 • 18:10
---
Witty comments yesterday where supportive at the JPM conference . All targets on track . Also may consider spinoffs after Novartis deal integration. This keeps the upside from a break up divestment alive.
GSK stand alone is finally returning to EPS growth. So either Witty the CEO is correct and the company performs or we get a break up and Woodford and gets his way. Both lead to substantial upside.
See Chart vs SXDP. Still a lot of catch up to go.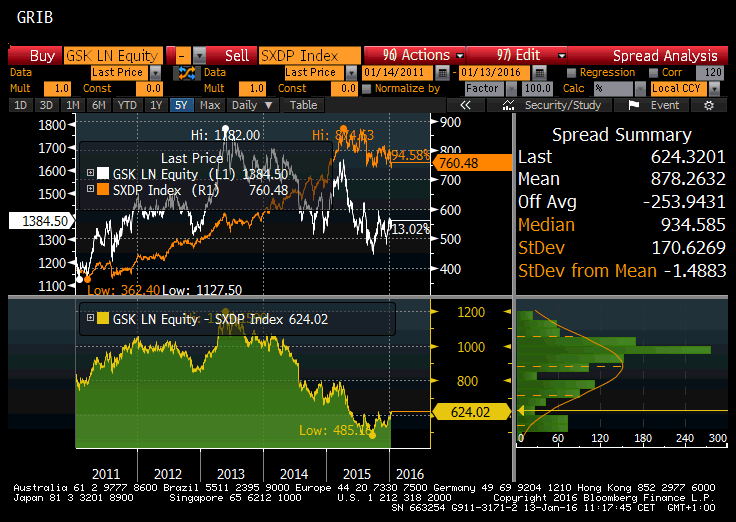 While waiting for all this to happen you get a 5.8% dividend. Not bad in a world of peak margins and scarcity of growth.
Adding to the position here.
STEPPING ASIDE FOR A WHILE
---
Friday • 27 November 2015 • 14:57
---
We decided to step aside for sometime in GSK.
Still love the company, believe value still exists.
Will revisit the idea at the later date.
GOOD BEAT ON NUMBERS
---
Wednesday • 28 October 2015 • 13:51
---
GSK had a decent beat. Will be taken well as expectations were so low.
3Q profits beat the estimates as HIV drug sales along with vaccines and consumer health-care products climbed.
Now over to the CC to tell us they are splitting the business up following the Sky news report last week.
That is where the real upside is in this name and the main reason we have held this name for a while.
Most analysts have it on a hold rating. Is this the start of upgrades?
Next catalyst R&D Day on Nov 3rd.
PUSHING AGAIN HERE
---
Friday • 20 March 2015 • 08:54
---
We have liked GSK for a while, however we are pushing again here (currently +5% on trade)
Valuation is compelling and expectation for the stock are low given a 30% cut to 2015-17E in 2014
Great dividend of over 5% vs with good scope to increase; UK 10yr pays 1.5%!
There is blocker buster potential with Tivicay/Triumeq & HZ/zu unappreciated by the market
We think that the CEO Witty will leave this year, which we expect to be received positively
This will lead to a CSGN moment as Dougan resigned and the stock was up 10%
Called down this morning by a bulge bracket on FDA result on Breo last night
We use the opportunity to add or open a long. Looking for 1800p
A LINE DRAWN UNDER THE CHINA SAGA
---
Friday • 19 September 2014 • 14:49
---
Been a serial underperformer in the sector for good reasons
The announcement to pay GBP297m in fines to end the China corruption probe is a major positive, as there was is no ban on China business
This draws a line under the whole China saga that has weighed on the stock the past year
We see this as a catalyst for the stock to start outperforming and provides a great entry point
The stock is very cheap historically with a great pipeline and massive exposure to biotech which is not even looked considered in valuation
GSK however has many options to unlock value; from reorganisation to spin-offs
Maybe Witty will move aside and if the Pzier/AZN completes, this will leave GSK as the only pure pharma play in the FTSE and other indices
We would not discount GSK being a target for an inversion deal themselves
Buy here at an attractive entry point with very limited downside as the pharma bull market marches on
FLOW RIDA
---
Wednesday • 23 July 2014 • 16:04
---
GSK look pretty painful and has been for us (-8%) but to year end it is a good trade. Talk of divi under pressure post call is unfounded as verified on the CC by CEO. SHP deal gets done and when that is followed by AZN attention will turn to GSK and they will re-rate.
We buy more here.
FLOW RIDA
---
Monday • 05 May 2014 • 16:21
---
Reading a piece from Exane on the AstraZeneca and the index implications.
They are saying the new entity as most people think will be UK incorporated holding company and to be listed on the New York Stock Exchange. If the deal goes ahead Astra will leave most of the European Indices. (FTSE UK (FTSE All Share, 350 and 100), FTSE All World Europe, MSCI Standard Europe, STOXX Europe 600.)
If the deal completes EAFE, European and UK Index fund managers (i.e. not being exposed to US stocks) are likely to sell their shares, which could create a significant supply on AZN shares that would materialise at the UK close.
I think the deal will complete as it is very accretive to Pfizer. They will bump the deal in overall terms or through increasing the cash component. I actually think they will end up doing both.
This will leave GSK as the only pure pharma play in the FTSE and other indices.
GSK is trading where it is due to awful sentiment and rightly so due to Corruption issues and the recent manufacturing issues at the Irish API plant.
GSK however has many options to unlock value from reorganisation to spin-offs. An article in the Economist even mentions a take over from Novartis. Although unlikely it just shows what options they have.
There is not much positive noise around GSK right now but when the AZN/PFE deals go through eyes and flows will turn back to GSK. It will not take much to make them attractive again. Sentiment is low.
The money will go somewhere and GSK has to be the number 1 candidate. This with the continued pharma bull market, multiple options open to GSK and a 5% yield makes GSK very attractive right now.