CLOSING: SANOFI
CLOSING -3%
Closing Sanofi long, -3%.
Completely spooned it over these numbers and CEO fiasco.
Had traded nicely since March.
EPS D/G
---
Tuesday • 28 October 2014 • 09:51
---
PS d/g fine on this but not this much.
Growth in diabetes (lantus) is fine and Sanofi been going the right way for the last few yrs and positive FX tailwinds to come through in Q4 for me.
Down 7% I would buy them.The Q+A at 1.30 will be key.
One of our longs since March.
TIME TO GET HIGH!
---
Tuesday • 04 March 2014 • 15:48
---
Sanofi has underperformed its pharmaceutical peers throughout 2013-2014, up only 5% in a bull market versus Roche +42%, Novo 38% & Novartis +25%.
We like Sanofi and think it is well positioned to benefit from rising diabetes levels, particularly in emerging markets such as China where figures continue to rise due to westernisation of eating habits.
382 million people worldwide are currently living with diabetes, and this is estimated to grow to 592 million before 2035.
Sanofi's well established Lantus insulin pen will be a key driver throughout 2014 – sales have grown consistently since 2008 (+20% in the Q4 2014 alone) and it is now first choice in insulin therapy. It is cementing growth in this area with U300 (next gen Lantus).
Diabetes sales rose 19% & emerging market sales were also strong +10.4% in Q4 2013 – the company now earns the majority of its revenue from EM.
There has been recent speculation that L'Oreal may divest its 9% Sanofi stake. However Sanofi CEO Viehbacher stated is retaining some balance sheet flexibility for a potential repurchase of this stake.
EPS growth looks likely to return after a 3 years of decline as the company posted a strong rise in 4Q sales across the board. US & Western Europe sales troughed in 2013, both turning positive in the 2H. Emerging market revenue had a strong acceleration in 4Q after being restrained by generics issues at its Brazilian business in 1H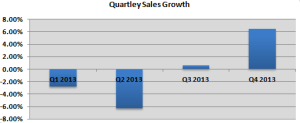 Improving pipeline: U300 (next gen Lantus) is in late stages, as well as 8 other high-potential late-stage projects.
Sanofi has not participated in the pharma bull market, problems in its large Brazil business restrained it through 2013 but these issues are now resolved and the underperformance is no longer warranted.
CEO is confident, stating on the Feb 6th CC that not many companies "will outperform us" in 2014.
Looking for EUR90