CLOSING SHORT SANDVIK
NEGATIVES MORE APPROPRIATELY PRICED
We went short at the beginning of December based on short cycle weakness in China, ongoing structural mining issues, dislocation vs miners and valuation. After a 20% move lower we feel that the numbers have been de risked and some of these negatives are more appropriately in the price.
With the announcement of the new CFO we are reminded of the portfolio change that new management (may) bring about which is an additional risk.
We still like the theme from the short side, and will revisit at a later date.
Closing for +20.61%.
GLOBAL IP SLOWDOWN CONTINUES
---
Wednesday • 02 December 2015 • 16:20
---
The arrival of the new CEO brought hopes of portfolio optimisation.
Since then Sandvik has rallied more than 30% off the lows.
With global data tepid at best and bond yields doing what they are doing, we want to get exposure to industrials on the short side. Sandvik is one of these.
Structural pressures in mining have not diminished.
China just printed its worst PMI in 3 years.
The US is facing an industrial recession (worst ISM manufacturing number since 2009).
Europe, the only 'bright' spot is bumping along just in expansionary territory.
SKF shutting production facilities in Europe for 10 days over Christmas does not sound like a bullish demand environment to me.
The normally very tight correlation with commodity prices and the SXPP has never been as wide.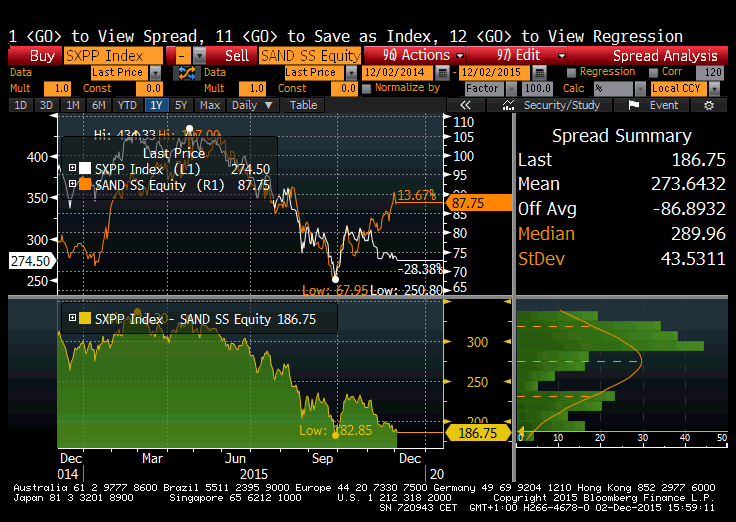 Sandvik trades a premium to history on 13x EBITDA and 16.5x earnings and inline with the sector. Does that sound right given deteriorating end market exposure?
GET SHORT.